The Tug of War Clowns are an animated Halloween prop made in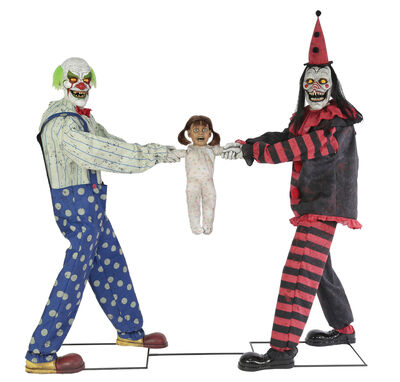 2019. The clown with a hat comes in 2 variations: red and black and green and black. When activated, the clowns lean back and forth, tugging on a screaming girl as their mouths move and eyes glow and they make jokes to one another with calliope music in the background.
You must not be pulling hard enough. I don't hear her screaming anymore. (Child screams.) "Ah, there we go. Screaming makes our work so much more enjoyable. Haha yeah, scream along, everybody! Hahaha! (Child screams.
Hands off, Stevie, I found her first. No way, Chatters. I caught her fair and square. (Child screams.) You heard her Stevie, hand her over. Not a chance. I can play tug-of-war all night. (Child screams).
(Child screams.) I'm taking my share if I have to tear her in half. (Child screams.) I'm okay with that. 50% for you, 50% for me. (Child screams.) Hmm, I don't trust your math. (Child screams.)
Hey, kids. We're the clowns your parents warned you about! (Child screams.) No use screaming, kid. You became a Halloween trick for us to treat on. (Child screams.) Ah, yes. A nice game of Halloween tug-of-war.
Hahaha. (Child screams.) Hahaha. (Child screams.) Hahaha.
Such Halloween spirit in this one. So true! Just don't pull so hard this time. You broke the last one. Don't worry, there's more where I found this one. (Child screams.)
This item is available for pre-order on eBay and on Spirit Halloween's website, though it appears to only be the red and black version for the latter.
In addition, the prototype of The clowns had them looking at each other, while the released versions are looking outward.
The green-haired clown's name is 'Skeevy' while the black haired one is named, 'Chatters'.
In Spirit Halloween's official video, several things appear to have changed from previous videos. The clown's phrases appear to have been switched, and they are each wearing the other's shoes.

In addition to this, the official description labels the green-haired clown "Stevie."

In 2020 a doll version of the green and black Chatters was showcased in the Halloween and Party Expo.
Stock images exist for the prototype version (with the clowns looking at each other and Chatters being dressed in white) meaning this version may have been planned for release but canceled before it could be mass produced.
This animatronics' soundtracks that can be heard are called Colonel Bogey, Much To My Surprise, and Over the Waves. Much To My Surprise is also the same music as Peek-A-Boo Clown.
Community content is available under
CC-BY-SA
unless otherwise noted.