The Giant Lighted Pumpkin is a Halloween prop made in 2018. It is a 3' tall jack o lantern with angry eyes, a triangle nose and a large grin filled with gnashy teeth. It also has a long gray, twisted stem. When activated, the pumpkin's eyes, nose and mouth light up and changes color while it laughs, thunder booms and crows caw in the background.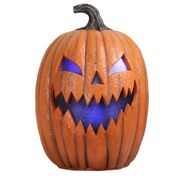 Where It Was Sold
Edit
The giant lighted pumpkin was sold at Michaels in 2018.
Community content is available under
CC-BY-SA
unless otherwise noted.