The Chattering Zombie Skull is an animated item made in 2016, and a part of the Chattering Skulls series. It is a yellow, rotting skull with skin still on it,  with a nose and both ears intact. When activated, the zombie's eyes glow green and he moves his mouth as he speaks funny phrases.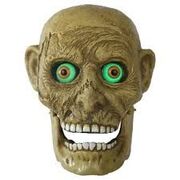 (Music plays in background of all phrases)
"This Zombie business sure is a dead end job, Haha!"
"Hey, wanna take a zombie selfie with me? Say, BWAIIINZZ!"
"BRAIIINNS, AAAH, AH, HAHAHA! BRRRAAAAAAAIIIINSSS! RAAAAAR! RAAAAAAAR! Raaar."
"Graaaaa! Id be chasing you if i wasnt stuck here."
"RAAAR, Brains, brains, brains, thats all i eat. And eyeballs. EEEYYYEEEBALLLS! (Slurping noise)
This is the first chattering skull to not be a complete skull, rather, a zombie head.
Community content is available under
CC-BY-SA
unless otherwise noted.