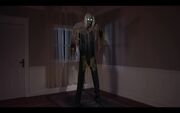 the Cellar Dweller is a Halloween animatronic set for release in 2021. The figure resembles a towering skeletal zombie-like creature with long white hair, covered in moss; when activated, the creature's mouth and head move, arms move up and down and eyes glow green as it speaks several phrases.
Phrases:
"This dank old House is oozing with the Fowl Stench of Rotted Souls. It's kept Me thriving; as long as I hide down here with the Rats. I'm happy to share with you — IF YOU HAVE THE STOMACH FOR IT! HAHAHA!"
"Groans I ooze with the Spirit of Halloween — 'Drip, Drip, Drip' It goes. Long, Drawn Out Groan"
"This Place drips with Doomed Spirits released from their Burial Graves; They are searching for Fresh Victims to haunt. There is no way of hiding from Them – BUT GO AHEAD AND TRY! HAHAHA!"
"The syrupy sick Damp of the Cellar has made Me a moldy mess. But no matter, I've grown fond of the Wet Stench; And want to share It with YOU! Drawn Out Growl"
Where it Was Sold morris costumes
[
edit
|
edit source
]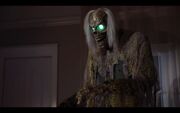 this animatronic has not yet been released.

Community content is available under
CC-BY-SA
unless otherwise noted.